June 2015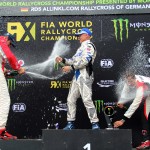 ---
Luckless Mondello British RX Outing For Albatec

Mondello Park, Naas (IRL) — Monday 29 June 2015; Albatec Racing returned to British Rallycross Championship action in a double-header meeting at Mondello Park this weekend. Fielding a Peugeot 208 RX Supercar for series leader Andy Scott, and an RX150 buggy for reigning and double British champion Marc Scott, hopes were high of a strong result for father and son to keep their title aspirations on track.
Going into rounds four and five leading the Supercars following victory at Lydden Hill and Croft, Andy got his weekend off to a great start, with victory in heat one aboard his Peugeot 208. In heat two, the Team Principal was boxed in at the start, eventually finishing fourth, but recovered in the third to take another outright heat win.
Lining up on the coveted pole spot for the Final, a good start off the line saw him in contention for a third outright Supercar win of the season. However a hit from Kevin Procter tipped the Peugeot 208 into a spin, dropping the Dumfries racer to dead last. A spirited drive saw him claw his way back to sixth at the flag but saw his championship lead handed to eventual race winner, four time British champion Julian Godfrey.
Sunday's round five proved even more frustrating for Andy, after a last minute change to the race format. Originally scheduled to be a four-lap race, the day's opening heat was suddenly cut to three, leaving race leader Andy who had yet to joker with a 20 second time penalty added to his race winning time. Thereafter he was on the back foot, on a track where a front row grid position is key to a good result.
Qualifying for the Final once again, Andy took another hit at turn two on the opening lap, spinning him out of contention, although he recovered to finish sixth.
After a great start to the weekend that had Marc also win two of his RX150 heats, he too lined up on pole position for Saturday's Final, and looked set to add another win to his 2015 tally. Taking the lead from series leader Chrissy Palmer on lap two, the Lochmaben racer ran wide at SEAT corner a lap later, handing the win to Palmer.
The 29 year-old bounced back to the top step of the podium in round five however, with a masterclass in RX150 driving netting him his third win of the season to close the gap to Palmer. Two heat wins and a second place finish gave him the prime spot again for the final. Taking the lead at the start, Marc went on to record a four second advantage at the flag.
Andy Scott, Albatec Racing Team Principal and driver:
"It's been a very disappointing weekend, you could say we've had the unluck of the Irish, after what started so well for us. We were unlucky to a large extent and unable to convert the pace we had into results.
"On Sunday, we had a good run in timed practice and were looking good for a strong result to get me back on track, but in the first heat they cut it short by a lap, just as I was about to take my joker. That gave me a 20 second penalty, which effectively ruled me out of contention for the rest of the day. Mondello is all about being on the front row, when you're not, it's very difficult to get a top result, and running in traffic meant the times were slower.
"I'm very unhappy with the whole weekend really, and particularly so as we had one of our sponsors Motis Ireland there, when I'd really hoped to give them a good result."
Marc Scott, Albatec Racing driver:
"It was a pretty good weekend for me, it would have been nice to get the double, but I made a small mistake in Saturday's Final, running wide and allowing Chrissy [Palmer] through. In the second it was another close run to the flag, but I had a bit of a gap early on, which helped me pull away. Overall it's been a great battle with him once again, and I'm looking forward to renewing the challenge at Pembrey."
---
Albatec Returns to British RX Action At Mondello Park
Dumfries, Scotland (UK) — Thursday 25 June 2015; Albatec Racing's Andy Scott returns to driving duties aboard his MacDuff/Motis/Rock Oil-backed Albatec Peugeot 208 RX Supercar in the British Rallycross Championship in association with the Shannon Group, at Mondello Park this weekend. The current leader of the series has been out of British RX race action since Pembrey last month, where he powered his 600bhp two-litre, 16v motor to second place.
The winner of the opening two rounds at Lydden Hill and Croft has since been busy leading his team to the top of the Euro RX points table, with Frenchman Jérôme Grosset-Janin taking first and second in the opening two rounds, as well as making a one-off appearance in the British round of World RX at Lydden Hill. With his regular car busy on Goodwood Festival of Speed duty this weekend, with the team's second Euro RX racer James Grint wowing the 300,000+ crowd, the Dumfries businessman will take the wheel of Jérôme's similar car in the double-header rounds near Naas, County Kildare.
Returning to the British schedule for the first time since 2011, Mondello Park is arguably one of the most thrilling tracks on the rallycross calendar, and with a bumper entry that includes reigning British champion Julian Godfrey, multiple race winner Kevin Procter and local hero and series sponsor Ollie O'Donovan, the weekend looks set for a classic showdown.
Albatec will also once again field the RX150 buggy of reigning and double champion Marc Scott, who looks to wrest the championship lead from Chrissy Palmer in his bid for a hat-trick of titles. Making a return to a track he knows and likes, the Lochmaben racer is looking to put the disappointment of spinning away a certain victory at Pembrey behind him and return to the top step of the podium in Ireland.
The double-header format, for rounds four and five of British RX, will see Saturday 27 and Sunday 28 feature two completely independent, but identical race schedules. Track action on both days kicks off with practice from 09.00, the heats at 10.30, 12.30 and 14.30 with the finals getting underway from 16.45.
Andy Scott, Albatec Racing Team Principal and driver:
"I'm really pleased to be getting back behind the wheel and going head to head against the best of British and Irish rallycross racers this weekend, at undoubtedly one of the best tracks on the British RX schedule. I'm also delighted to be welcoming one of our sponsors Motis Ireland and their guests for their first visit to a rallycross event, hopefully Marc and myself can put on a good show for them, in front of the estimated 10,000 spectators, and come away with a couple of wins apiece."
Marc Scott, Albatec Racing driver:
"I'm looking forward to getting to Mondello Park, it's a track I like very much, I've raced there three times before, and it's very fast and very enjoyable. I'm a little bit on the back foot points wise, but I'm more determined than ever to win to get me back in the title hunt. I was very disappointed to spin away the win at Pembrey, however there's still a long way to go in this championship and although Chrissy and the others are chasing hard, I certainly haven't given up yet."
---
Grosset-Janin Maintains Euro RX Lead With Second In Germany
Estering, Buxtehude (Germany) — Sunday 21 June 2015; Albatec Racing's Jérôme Grosset-Janin has maintained his lead in the FIA European Rallycross Championship by finishing second in round two at Estering today. The result puts the former French Rallycross Champion two points ahead of second-placed Tommy Rustad, after powering his 600bhp Albatec Peugeot 208 RX Supercar to its second Euro RX podium finish of the season.
Winner of the opening round in Belgium last month, Jérôme was again comfortably among the fastest of the Euro RX runners this weekend, with two individual race wins, and triple top three fastest times across the four heats keeping his hopes of progressing to the final firmly on track. Winning his semi-final some four seconds faster than his main championship rival, the 31 year old lined up on the front row of the Final, and after a trouble-free run took the flag in second.
Albatec team-mate James Grint made it a double for the Dumfries team by qualifying for the all-important finals, on only his third competitive Supercar outing. The Hertfordshire racer on his first visit to the German track, was consistently among the top 12 right from the start. Across the four heats he steadily moved up the order to lie tenth after the final race, to join Jérôme in the second six-lap semi final.  The former rallyman, starting from the back row, was quickly up to fourth, but was tagged in to a spin before the completion of the first lap, dropping him out of contention for a top three finish.
The FIA European Rallycross Championship presented by Monster Energy resumes with round three at Hell, Norway, over the weekend of 21-23 August.
Andy Scott, Albatec Racing Team Principal:
"It's been a great weekend, I think to come away from this event with two cars intact, and with limited damage is success in itself! Estering always produces great, close racing, and this year was no exception.
"Jerome once again drove a great race, running consistently at the front of the Euro RX runners all weekend, and to maintain the series lead against such an incredibly strong field is a great result. We're all very, very pleased for James to achieve his objective too. Right from the start he was within the top 12, and steadily improved across the four heats to get tenth. Now we must continue to work hard to ensure we're ready for the next round of Euro RX, in Norway, to consolidate the advantage."
Jerome Grosset-Janin, Albatec Racing driver #74:
"The first heat was good, I made a few mistakes, but being in the first heat and still holding third was a good result. In the second heat, I'm not really sure what happened at the first corner, but that cost me some time. Now we have lost a little bit of the advantage in the championship but we were fifth yesterday, and as always Sunday is always a very, very long day so to finish second here, especially here on this track, is a very good performance for us, for the team and for the championship.
"The car was really good all weekend, it's better every time I drive it, and I think we've proved that the combination is certainly quick. So I'm feeling very happy, I'm feeling more and more confident in the car, which I think is very good for the next races."
James Grint, Albatec Racing driver #27:
"I'm really pleased to have reached the semi finals today, which was my aim before the weekend. Although of course, when you achieve your first goal, you then want more! The track is great, it's difficult, but also a lot of fun, and any mistake at the first corner can cost you a lot.
"I'm happy to have been consistently within the top 12, improving with every heat, so I feel things are definitely going in my favour. Today's third heat was probably my favourite. It was fast, and I led for three laps, just losing it on the joker while in the semi final it was naturally disappointing to get spun round.  Generally I think we're continuing to move forwards, and the car was great all weekend. The team has done a great job as always, and I'm really looking forward to the next round."
---
Finnish Rally Star Kristian Sohlberg Joins Albatec Racing Stable 
Dumfries, Scotland (UK) — Wednesday 17 June 2015; Finnish rally driver Kristian Sohlberg will join Albatec Racing's ever-growing stable of star drivers contesting select rounds of French, British and World RX in 2015. The 37 year-old will first race one of the team's two-litre, 16v Peugeot 208 RX Supercars alongside Frenchman Julien Fébreau at Pont de Ruan over the weekend of 11&12 July, in round four of the French Rallycross Championship.
Kristian will then make his British Rallycross Championship debut alongside Team Principal and championship leader Andy Scott at Pembrey the following weekend, before heading into his first FIA World Rallycross Championship event at World RX of Turkey in Istanbul over the weekend of 2-4 October.
The former Mitsubishi Motors works driver has contested World and European rallies throughout his 15-year career, and finished runner-up in the Production World Rally Championship in 2002, with wins in Sweden and Rally New Zealand. Now the Espoo-based driver will switch his attentions to the high-octane sport of rallycross, which pitches the world's greatest drivers head-to-head across a series of short, sharp, all-action sprint races.
Kristian will undergo a test in France ahead of his first outing next month as the team continues to grow its impressive portfolio of drivers that sees the Dumfries-based outfit contest four rallycross series, including its championship-leading Euro RX and British RX title bids.
Andy Scott, Albatec Racing Team Principal:
"I'm delighted to welcome Kristian to the team, as we've been in discussion with him for some time now but were previously unable to agree a mutual calendar of events. His rally expertise I'm sure will be a great help on his rallycross debut, and I'm certain he will prove a valuable asset to the team.
"Albatec Racing is undergoing a very busy time across the four championships, with the emphasis naturally on continuing our championship leading performances in both Euro RX and British RX. The opportunity to contest select rounds of the French and World RX was simply too good to miss, as we look to build on that success."
Kristian Sohlberg, Albatec Racing driver:
"I'm very happy to have finally organised a contract with Albatec Racing. I have been trying to get a chance in rallycross for some time and finally it worked. It is something totally new for me, but I know the team is very professional and the Peugeot 208 RX Supercar is very competitive.
"I'm really looking forward to the first test and race in France. These two events, in France and England are a build up for World RX of Turkey where I hope we can achieve a really good result and show what we can do. I want to thank Andy [Scott] and all my sponsors for this possibility. It will be a heck of a ride!"
---
Albatec Looks To Extend Euro RX Lead In Germany
Dumfries, Scotland (UK) — Tuesday 16 June 2015; Albatec Racing returns to Euro RX action this weekend (20&21June) hoping for victory to cement its lead in the 2015 FIA European Rallycross Championship. Round two of the five-round series takes place at Estering, near Buxtehude, Germany, with series leader Jérôme Grosset-Janin and rallycross newcomer James Grint looking to negotiate their way round the challenging 1km track unscathed.
Last time out in Belgium, Jérôme scored a momentous first International victory for himself and the Dumfries-based team, while James, on only his second Supercar race acquitted himself well, just missing out on a semi-final position. With the team's pair of two-litre, 16v Peugeot 208 RX Supercars re-built and ready for action, hopes are high of a strong result on a track, which traditionally offers its fair share of action.
Estering is renowned for its challenging tight first corner, which has caught out many drivers in its history including Andy Scott last year, who suffered suspension damage, costing him a place in the finals. Jérôme too had his own problems there last year, but the former French rallycross champion is looking to put all that behind him as he bids for a second successive Euro RX victory.
The venue is new territory for James, the former rally man acclimatising well to rallycross in his debut season, who is targeting a semi final position this weekend. With a successful test conducted at Faleyras on Monday, the Hertfordshire racer heads to his third outing with the team full of optimism.
Track action kicks off with open practice at 11.00am on Saturday 20 June, with the opening two heats starting from 12.30. Warm-up at 08.30 on Sunday morning starts track proceedings with the final two heats from 10.30. The Euro RX semi-finals, in which the fastest 12 from all the heats, get underway at 14.00, with the fastest three from both semi finals progressing to the Finals from 15.00. Live timing, live streaming in certain territories, and additional information can be found on the official website at www.rallycrossrx.com.
Andy Scott, Albatec Racing Team Principal:
"We're looking forward to going to Estering, it's a track we all like, even its famed, challenging first corner and joker, which make racing there incredibly exciting. I'm certain it will suit both our drivers with their rally experience, as the fast, flowing gravel section is very similar to a rally stage.
"We've had a successful start to the season so far, across British, European and French RX, and we need to continue to work hard and take that knowledge and experience into this weekend. Jérôme should be a strong contender again, he has experience of the track, while James had a great test at Faleyras yesterday, and I'm sure that he too will be challenging for a place in the finals.
Jérôme Grosset-Janin, Albatec Racing driver #74:
"I've raced at Estering before and remember having good feelings driving the track. It is one of the "real" RX tracks of the season and I am really happy to go back there. The first corner is difficult, even if you're on pole, you can lose everything through the first corner. It is like 'everything is possible'! It is really strange and is one of the most difficult I know, I had a lot of trouble there last year!
"The strategy is really important because, like in Belgium, the joker is in the last corner. So it is really important to look at who are in the heats with us to joker at the right time. It's also very tight, with a pretty high entrance speed. It can be difficult to find a good balance between speed and safety!"
James Grint, Albatec Racing driver #27:
"It's been a while since Belgium, so I've had some time to prepare. I've been practicing my German for a start, but that's not going too well! I have been watching a lot of videos though, trying to get a feel for the track. I tested yesterday so feel pretty car fit. The whole circuit looks pretty challenging, especially the first corner. The videos from previous races have helped, however I'm looking forward to the first track walk, then I will really get a feeling of how the track looks and feels. The biggest challenge for me is having no experience there but I'm sure I will manage.
"Mettet was a great experience, I loved every minute of it! I feel like I need to keep the same approach I had in Germany and just drive as fast and as clean as I can! I want to at least make the semi finals this time, I think I'm fast enough so we shall see what happens!"
---
Albatec Peugeot 208 RX Supercar To Star At Goodwood FOS
Dumfries, Scotland (UK) — Monday 15 June 2015; The grounds of Goodwood House will reverberate to the sound of Albatec Racing's fearsome Peugeot 208 RX rallycross Supercar when it makes a guest appearance at the highly acclaimed Goodwood Festival of Speed over the weekend of 26-28 June. With a theme this year of 'Flat-Out and Fearless: Racing on the Edge', the Dumfries team's two-litre 16v motor will wow the expected 300,000 plus crowds that annually descend across the three-day festival.
Boasting some 600bhp from their flame-spitting, turbocharged powerhouses, RX Supercars accelerate faster than a Formula One car, a staggering 0-60mph in under two seconds. Formula One cars are no longer allowed to do the official timed runs, leaving the fastest time up the hill of 41.6 second set by Nick Heidfeld in a McLaren MP4/13 Formula One in 1999, still standing. The focus now is more on demonstrations that are spectacular rather than fast; and this is where the elite rallycross category of Supercars – four wheel drive racecars, the fastest accelerating circuit race cars in the world, will come into their own.
Swapping from the traditional rallycross format of a series of short, sharp, all action races over a mixed circuit of both asphalt and loose gravel, the Hillclimb will see Albatec's Euro RX racer James Grint negotiate the hill against the world's very best drivers and riders in the ultimate test of concentration and speed.
The Hillclimb is the principal attraction at the FoS, and takes place across the weekend incorporating a challenging white-knuckle ride along a 1.16-mile course. Starting from the tree-lined southern corner of the Goodwood Estate, the course rises over 300ft from the start line to the finish, as it sweeps past the front of the magnificent Goodwood House, before climbing a steep and narrow estate road towards Goodwood's equine racecourse on top of the South Downs.
Arguably the fastest growing motorsport in the world, rallycross owes part of its popularity to the spectator-friendly paddocks that allow visitors the opportunity to get up close and personal to the series' stars and cars. Equally, all visitors to Goodwood are able to walk around the paddock, where drivers and cars can be seen at close quarters, and afforded close views of the action.
Current leaders of both the FIA European Rallycross Championship and MSA British Rallycross Championship, Albatec Racing will divide its attention over that weekend, with British RX championship leader and Team Principal Andy Scott taking part in the double-header round at Mondello Park, near Naas, Ireland. While leading the team's appearance in Goodwood Hertford-based James, brother to Rupert Grint, aka Harry Potter's Ronald Weasley, will join around 300 cars and motorcycles, grouped thematically, in a sprint up the iconic Hillclimb.
Tickets and additional information concerning the Goodwood Festival of Speed are now available from the website www.grrc.goodwood.com
Andy Scott, Albatec Racing Team Principal:
"It's fantastic to have our Albatec Peugeot 208 RX at Goodwood Festival of Speed this year. I would love to be there myself to watch it, however I'm busy competing in the double-header British RX round at Mondello Park. I'm sure James and the rest of the team will represent Albatec in the best possible way though, and have a great weekend."
James Grint, Albatec Racing driver:
"I'm really excited to be part of Goodwood Festival of Speed this year. I've been going to the show since I was about six years old and I have always dreamt that I would be one of the racing drivers screaming up the famous Goodwood hillclimb, now my dream is becoming a reality.
"It's almost more exciting than the next Euro RX race in Germany!!! I'm going to be concentrating pretty hard behind the wheel, as I really don't want to be the one that stuffs the car into the Flint wall!!! I hope to put on a good show for all the rallycross fans."
---
Albatec Continues Strong Pace To Finish Fourth At Faleyras
Circuit Faleyras, Bordeaux (France) — Sunday 14 June 2015; European and British RX championship leaders Albatec Racing continued its strong form of 2015, with Julien Fébreau powering his 600bhp Peugeot 208 Supercar to fourth place in the French Rallycross Championship at Faleyras today.
Practice on Thursday allowed the Canal+ Formula One reporter the first opportunity to experience the 1.1km track, and official free practice on Saturday allowed him to put that knowledge to good use, posting the fastest time on his first competitive run.
Amid an exceptionally strong field, including Belgian rally driver Francois Duval, and local rallycrosser and former French Super1600 rallycross champion Jean-Baptiste Dubourg, another solid performance earnt Julien the fourth fastest time in heat one, and sixth in heat two, to place him fifth overnight in the intermediate standings.
Overnight torrential rain made track conditions incredibly slippery for Sunday's heat three, which saw three Supercars roll out of contention, and pitched the rapid Frenchman off into the sand at the first corner. A superb drive in his final heat however saw him first past the flag, and secure the fourth fastest time overall to put him into the semi finals.
In that, another strong drive from Julien allowed him to take third place, and easily qualify for the seven-lap, eight car final. Starting from the back row a superb performance saw him steadily move through the field, posting the fastest lap on the way, to finish fourth, less than three seconds adrift of the winner.
The Dumfries-team, embarking on its first competitive outing in French RX, will now rebuild the car in France in preparation for Jérôme Grosset-Janin's bid to secure a second successive Euro RX victory, in round two at Estering, where he joins Briton James Grint at round five of the FIA World Rallycross Championship presented by Monster Energy.
Andy Scott, Albatec Racing Team Principal:
"What an amazing weekend it's been. Julien has been an absolute pleasure to work with, he's very professional, committed and fast, and it's great to have seen him reach the final here in Faleyras. The track conditions today were exceptionally difficult, but he overcame them well with three solid drives in the qualifying heats to put him easily through to the semis.
"In the final, he drove very well, from the back of grid, we really couldn't have asked for better and I'm really excited to see how he goes at the next event, in Pont de Ruan next month."
Julien Fébreau, Albatec Racing driver:
"First of all I want to thank Andy and his wife Aud for the way they welcomed me into the team. I felt at home immediately and as a driver that is very important. A big thanks to all the mechanics and to Cédric my Chief Engineer too, they were great all week-end in a great atmosphere.
"Finally I would like to say a big thank you to Jérôme Grosset-Janin who was my coach and spotter all week-end. It was not an easy task but he did so well! I wanted to make him happy and I think I achieved that target with fourth place and the fastest time in the final! I learnt so much with the team during these two days… I'm really looking forward to the next race in a month!"
---
Albatec Racing Agrees Two-Race Deal For French RX With Julien Febreau
Dumfries, Scotland (UK) — Friday 5 June 2015; Albatec Racing makes its French Rallycross Championship debut at Circuit Faleyras, near Bordeaux next weekend (13&14 June), with Canal+ Formula One reporter Julien Fébreau at the wheel of one of the team's 600bhp Peugeot 208 RX Supercars.
The experienced Frenchman is no stranger to rallycross, competing successfully at Lohéac, Essay and Mayenne in Super 1600, before making his Supercar debut at Pont de Ruan in 2014, winning at his first attempt. The 32 year-old also competed in the FIA World Rallycross Championship presented by Monster Energy last season, in Canada in RX Lites, in which he finished third.
European and British RX Championship-leading outfit Albatec returned to its Lochfoot base from the British round of World RX at Lydden Hill last month, to re-prep the cars ready for testing in France next week. Following the test, the team will head straight into round four of the French RX series at the 1.1km track.
The event marks the start of a busy time for the Andy Scott-led team, which embarks on a six-week stint of back-to-back races across European, French and British RX, with the team heading straight to Buxtehude from Faleyras for the second round of Euro RX. Albatec and Fébreau will also contest round six of French RX, at Pont de Ruan over the weekend of 11&12 July.
Track action in Faleyras gets underway on Saturday June 13 with practice at 09.30, with the first of two heats starting at 13.30. Sunday's action resumes with morning warm-up at 08.00, followed by heats 3 & 4 at 09.00, with the semi finals and finals starting from 13.45. Tickets for the event are available from https://www.weezevent.com/rallycross-de-faleyras-gironde-2015
Andy Scott, Albatec Racing Team Principal:
"I'm delighted to welcome Julien to the team, he has a lot of experience behind the wheel, not only in rallycross, but across ice racing and drifting as well as tests in Formula 1. He will, I'm certain, prove an asset to the team, and I'm sure he'll adapt very quickly to the Albatec Peugeot 208.
"The event marks our first outing in the French Rallycross Championship, but we're all looking forward to racing at the Faleyras track, which we have regularly used for testing. Finally we get the chance to race there, among what I'm sure will be a strong quality field, and hopefully we can come away with another strong result."
Julien Fébreau, Albatec Racing driver:
"I am extremely excited to join Albatec Racing. My passion for motorsport and for driving pushes me to always try harder, and to only team up with the best. And that's exactly what I've found with Albatec. I feel very lucky to join a team that races at the highest level in both World and European championships. I am very grateful to Andy Scott who trusted me and allowed me to drive this incredible Peugeot 208 WRX. It's a new step in my journey as a race driver. I know some members of the team very well, and I know that I'll benefit from everybody's support during the events that we are going to race together.
"I've never had the opportunity to race at Faleyras, that will be a fantastic "first time" for me. I've heard a lot of things about the track, as this is probably the nicest and the most technical track in France. The track is very rolling, and it keeps switching between high-speed curves and tight hairpins. The top speed is impressive there, more than 175 km/h, which is quite high for a Rallycross car. It will therefore be a serious challenge for me, but thanks to the Albatec team, we are going to prepare ourselves the best we can for this key moment of the season.
"It seems that Faleyras, next week-end, will become "the place to be". I think the number of drivers entering the Supercar series has never been that high. Jean-Baptiste Dubourg, who is France's vice-champion, comes from the place, and will be there to defend the title he won last year. François Duval, Sebastien Loeb's former team-mate in the World Rally Championship, will be there as well. All this shows that the level will be extremely high, but honestly I love it! For me, the goal is clear: to keep learning in the Supercar series. I raced only once in this category, and I still have a lot of things to learn before using the car's potential at 100%. If I don't make mistakes and if I keep learning throughout the week-end, while still enjoying it, then I'll be able to say that my week-end was a success, whatever my standing will be when taking the chequered flag!"