Andy Scott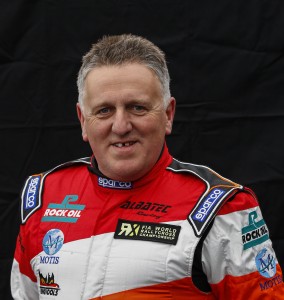 Full Name: Andrew John Scott
Known as: Andy
Date of birth: January 24, 1957
Place of birth: High Wycombe, Buckinghamshire, England
Residence: Lochfoot, Dumfries, Scotland
Nationality: Scottish
Marital status: Married to Aud
Children: Ben, Ric, Marc, Jack
Grandchildren: Finley, Charlie, Oscar, Junior, Jayla
Profession: Businessman
Favourite track: Höljes, Sweden
Best racing moment: European Rallycross Championship 2011 podium in Holland
Worst racing moment: British Rallycross Championship 2011 Knockhill – damaging the car and BRC title chances
Likes: Motorsport, helicopters, water sports, travelling
Dislikes: Bad service, regulations, drugs
Racing ambition: To win at the highest level of rallycross competition
Helmet colours: Red, green and silver
Facebook: www.facebook.com/AndyScottRX
Twitter: @AndyScottRX
---
Andy Scott has built a reputation as one of Britain's top Supercar racers. Returning in 2009 after a lengthy sabbatical to build his business, Andy won the Fuchs Lubricants Rallycross Open Championship and finished third in the MSA British Rallycross Championship. A Supercar campaign in 2010 netted outright victory at Knockhill, with further spoils at the Knockhill Rallycross Superprix.
Three victories, four podiums and six top-eight finishes sealed Andy's stellar 2011 season which culminated in the MSA British Rallycross Vice-Champion crown. Combining that with his debut in the FIA European Rallycross Championship, Andy amassed eight points-scoring finishes, including a podium in Holland, on his way to 11th in the standings. A world-wide campaign in 2012 saw him add victories in the standalone Rallycross de Loheac and MSA British Rallycross Grand Prix events to an already impressive season tally.
Dovetailing a full FIA European Rallycross Championship with select UK rounds in 2013, Andy secured heat wins at Lydden Hill, Montalegre, Holjës and Lohéac and heat race and outright victories at Knockhill and Croft, together with second in the MSA British Rallycross Grand Prix.
Taking on the new-for-2014 FIA World Rallycross Championship, Andy recorded multiple race wins and set a consistently fast overall race pace to secure six semi final positions. In 2015 Andy concentrated his attentions on the MSA British Rallycross Championship title, while fulfilling his role as Albatec Racing Team Principal. Securing victory in the opening two rounds put him immediately in the running for the crown, however a frustrating outing in the double-header at Mondello Park in Ireland ultimately cost him the title at the very last round.
In 2016 Andy joined champion Tommy Rustad and vice-champion Jérôme Grosset-Janin in the FIA European Rallycross Championship, and the standalone Lohéac World RX event, together with a one-off appearance in French RX. Last year Andy continued in Europe, joining Rustad and Jere Kalliokoski in Euro RX aboard his Motis and Rock Oil supported Peugeot 208 RX Supercar.
For 2018 Andy is contesting the British Rallycross Championship alongside new signing Mark Higgins, while also taking in selected European and World Championship events including ARX and alongside appearances in rallying with Sol Rally Barbados in a Fiesta R5.