Home
Albatec Racing Profile/The Team
Albatec Racing is one of the leading lights of rallycross.  Boasting an impressive cast of 'celebrity' guest drivers in its cars, including from F1, Mika Salo, Jacques Villeneuve, and Vitaly Petrov, World Rally Championship ace Kris Meeke, and four-time World Touring Car Championship star Yvan Muller, Albatec is among the most high-profile teams in the business.
Based in Dumfries, Scotland this world-class rallycross team is focused on building and racing the most technologically advanced rallycross supercar in the world. Fielding a pair of two-litre turbocharged 16 valve, 600bhp Peugeot 208 RX Supercars, Albatec has successfully competed in British, French, European and World RX series, the only rallycross team to have done so.
Bringing together the state-of-the-art Peugeot 208 RX Supercar, complete with 600bhp turbocharged Oreca built engines, mated to technologically advanced Sadev transmission, and backed by technical partners Motis and Rock Oil, puts the team amongst the best prepared and equipped in rallycross.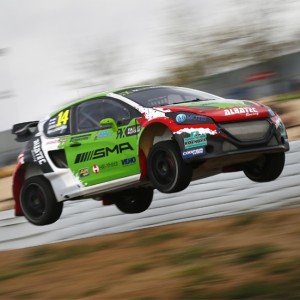 2013 was a formative year for the team and in 2014 entered the new FIA World Rallycross Championship. Going head-to-head with the more established teams under Team Principal Andy Scott's leadership, combined with the team's technical capabilities and its remarkable rallycross knowledge, the team took numerous heat race wins and six semi final positions.
In 2015 Albatec entered the FIA European Rallycross Championship, MSA British Rallycross Championship and RX 150 British RX, claiming vice-champion crowns in all three, as well as two outings in the French Rallycross Championship, where it took its first outright Supercar victory. Last year Albatec embarked on an ambitious programme across European, French and British RX, securing its second successive Euro RX Vice-Champion crown, and fourth overall in France RX.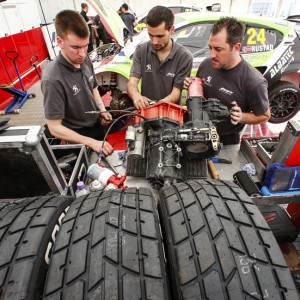 For 2017 Albatec has retained former European champion Tommy Rustad for a second assault on the title with Finnish sensation Jere Kalliokoski joining the Euro RX fray. Joining the team for select events will be Team Principal, double British Rallycross vice-champion Andy Scott. In France, Philippe Maloigne returns to contest the full series looking to take his and the Dumfries team's first crown. Dovetailing its extensive rallycross campaigns with outings in karting, and with multiple RX150 titles among its achievements, Albatec remains the only team that can guide young drivers up the ranks from karting to the heady world of Supercars.