Mark Higgins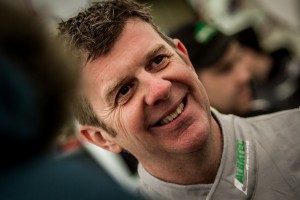 Full Name: Mark Higgins
Known as: Mark
Date of birth: May 21 1971
Place of birth: Onchan, Isle of Man
Residence: Powys, Wales
Nationality: British
Marital status: Married to Caroline
Children: 2
Profession: Professional driver and stunt driver
Best racing moment: First British championship rally win on 1997 Ulster Rally
Worst racing moment: Being pulled out of my first WRC event in a world rally car on Rally GB when lying fifth, after team-mates Colin and Carlos crashed out. And when I broke my back in Kielder in 1996
Likes: All motorsport both 2 and 4 wheels
Dislikes: People not doing what they say or promise, quite common in motorsport, unfortunately!!
Racing ambition: Winning! It was to have a proper crack at WRC but I've missed that boat now. But I'm very excited about RX
Helmet colours: It's different every year but it will be green, black and white this year. Always with Sylvester the Cat on the back for the last 20 years!
---
Manxman Mark Higgins joins the team for an assault on the Toyo Tires MSA British Rallycross Championship in the Albatec Racing with NCME Peugeot 208 RX Supercar. He began his career in motorsport in karting aged nine and made his rally debut in 1991 aged just 16, driving an Opel Manta. His exploits earnt him his first 'works' drive with Vauxhall Dealer Sport at the wheel of the legendary Nova GSi, where in 1992 he finished sixth in the British championship.
His first title success came in 1997, in a Nissan Sunny GTi, which he clinched with victory on the Ulster Rally. In 1999 Mark signed a works deal for Volkswagen and finished sixth in the standings with two podium finishes, with a World Rally Championship win in F2 on Rally GB.
In 2000 Mark returned to the Vauxhall works team, winning three rallies to finish runner-up after two retirements and his first of five Manx Rally wins. His next full season came in 2005 with the Eddie Stobart team, driving a Ford Focus RS WRC, where four wins in a row allowed Mark to win the title for the second time.
His third crown followed in 2006 where wins on the Jim Clark and Manx Rallies earnt the accolade of becoming the third most successful driver in British history in terms of championships won, following Jimmy McRae (5) and Roger Clark (4).
Double runner-up in 2007 and 2008, Mark came close to equalling Clark's tally in '09, but disaster struck on the Yorkshire Rally after the most close-fought season in history, when he crashed out on the final stage, within sight of the title.
Four-time Autosport National Rally Driver of the Year, Mark has been equally successful on the International stage, winning numerous events in the Rally China Championship, where national regulations prevent him from being awarded the overall driver's crown. He has also secured several top positions in World Rally Championship competition, including outright win in Mexico PWRC.
Mark also holds the record as the fastest man on four wheels around the iconic Isle of Man TT Mountain Course lapping the 37.73-mile course in 17min 35.139 sec, equating to an average speed of 128.73 mph.
Away from the rally stages Mark has a long history as a stunt driver in a number of feature-length films including the last three James Bond films; Quantum of Solace, Skyfall and Spectre, and the Hollywood blockbusters Avengers: Age of Ultron and Fast and Furious 6.