Tommy Rustad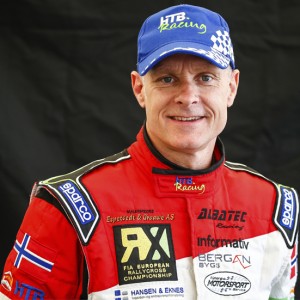 Full Name: Tommy Rustad
Known as: Tommy
Date of birth: September 03 1968
Place of birth: Hakadal – Norway
Residence: Harestua (30 km North of Oslo)
Nationality: Norwegian
Marital status: Married to Lisbeth
Children: Isabell (12) and Julius (18)
Profession: Self-employed
Favourite track: Hell, Norway
Best racing moment: When I won the European Championship in 2015, and STCC in 2000 and 2009
Worst racing moment: When I lost the STCC Championship in a massive crash in the final race in 1999
Likes: Skiing, mountains, nice people and good food
Dislikes: War and injustice
Racing ambition: To do my best, and of course win the Championship!
Helmet colours: Red, white and blue
Facebook: www.facebook.com/Tommy-Rustad-på-farten
---
One of the most experienced and diverse drivers in rallycross, Tommy stays with Albatec for 2017 and boasts an impressive pedigree spanning touring cars, single-seaters, ice racing and hillclimb.
Beginning his career in karting in 1984, Tommy went on to secure the Norwegian championship with 11 race wins, before moving to rallycross and hillclimb where he was crowned Nordic champion, and Norwegian champion an incredible six times.
Moving into circuit racing in 1993, five wins in Formula Opel Sweden earned him the title, followed by three years in Eurocup, Formula Renault and Formula 3, which produced eight race victories across the series. In 1997 a season in the Renault Sport Spider European Championship saw him claim eight wins and the coveted crown, before moving over to the British Touring Car Championship where he took five race victories on his way to the Independent Cup.
Touring cars remained his main focus for the next eight years, where he claimed the title in the 2000 Swedish Touring Car Championship with two wins and 12 podium finishes, and the following year clinched the Norwegian title. A sabbatical from touring cars in 2006 saw him contest the European Rallycross Championship, netting five podium finishes and securing third place in the championship.
Tommy's love of rallycross saw him return to the RX tracks in 2013, where he contested the Supernational Norwegian Championship with his own Tommy Rustad Motorsport team, as well as two rounds of the European Rallycross Championship. A full season in 2014 beckoned and he was rewarded with sixth place in the hotly contested FIA-backed series.
In 2015 a full campaign in the FIA European Rallycross Championship allowed Tommy to fully show his championship-winning potential, with a season-long battle with Albatec's Jérôme Grosset-Janin. Two victories from the first three rounds allowed him to overtake the Frenchman at the top of the points table, but a penalty incurred in round four closed the gap going into the final round. Victory in Italy was enough to secure the title by the smallest of margins, and crown him FIA European Rallycross Champion.
Last season Tommy joined Albatec alongside his arch-rival from 2015, in his bid to retain the title, aboard the team's #24 Peugeot 208 RX Supercar, backed by HTB. Three podiums, including a maiden win for the team at the final round in Latvia underlined the growing confidence of the popular Norwegian in his new mount, and showcased the car's potential to deliver the Euro RX crown. Tommy returns to Albatec for 2017 determined to reclaim the title.