Jérôme Grosset-Janin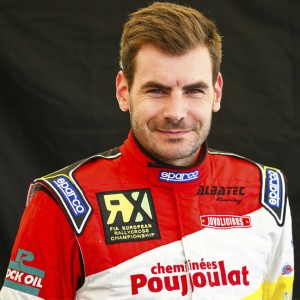 Full Name: Jérôme Grosset Janin
Known as: Jérôme
Date of birth: June 19 1984
Place of birth: Sallanches, France
Residence: Sallanches, France
Nationality: French
Marital status: Single
Children: No
Profession: Product development
Favourite track: Hell, Norway
Best racing moment: My first European Championship win in Belgium 2015!
Worst racing moment: They are behind me!
Likes: Challenges
Dislikes: Routine
Racing ambition: To win races
Helmet colours: Black, Yellow & Grey
Facebook: www.facebook.com/jeromegrossetjanin
Twitter: @jeromegj
Instagram: @jeromegrossetjanin
---
Jérôme began his motorsport career in ice racing in 2003 and contested the 2005 Andros Trophy where he secured 14 podiums from 14 races. The following year, aged 22, he switched to rallying in the French Asphalt Rally Championship, finishing third to become the youngest driver to win a rally and reach the podium.
In 2009, Jérôme moved back to rallycross, finishing third in the French Rallycross Championship in 2010 and 2011.  In 2012 he finished runner-up and in 2013 was crowned French Rallycross Champion. Last season he piloted a four year-old Clio in the FIA European Rallycross Championship, and immediately showed his potential against the latest generation Supercars.
In 2015 Jérôme led the team's assault on the FIA European Rallycross Championship aboard a two-litre, 16v 600bhp Peugeot 208 RX Supercar, and appeared alongside four times World Touring Car Champion Yvan Muller in the Lohéac round of the WorldRX.
Starting the season with a win in Belgium put Jérôme immediately on top, securing Albatec's first outright Euro RX victory. Consistent finishes in the following three rounds ensured the title fight would go to the final round, where he twice suffered a hit which damaged his car and brought his title bid to an end.