Jere Kalliokoski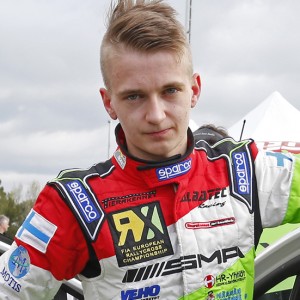 Full Name: Jere Kalliokoski
Known as: Jere
Date of birth: 12 August 1997
Place of birth: Alahärmä – Finland
Residence: Alahärmä – Finland
Nationality: Finnish
Marital status: Single
Children: None
Profession: Car mechanic
Favourite track: Kouvola RX Circuit
Best racing moment: When I secured my Finnish RX Supercar title in the last race
Worst racing moment: 2014 in Autocross was a big disappointment and I'd rather forget that season!
Likes: I like racing and driving and don't mind driving any machine as long they go fast!
Dislikes: I don't like to eat fish
Racing ambition: To become a professional rallycross driver some day
Helmet colours: Carbon grey
Facebook: https://www.facebook.com/Kalliokoski-Motorsport
Instagram: https://www.instagram.com/Kalliokoskimotorsport
---
Arguably one of the youngest drivers in European rallycross, Jere joins Albatec Racing as the reigning Finnish Supercar Champion following an impressive season last year. With a background in karting, Jere quickly established himself as a potential champion with his rallycross debut coming in 2014, where he finished seventh in his home race at Kouvola in Super-Lites. A season in autograss followed where he finished fifth in the Finnish Championship, before moving into Supercars in 2016.
During the season, the teenager quickly established himself as a serious championship contender against a quality field, and clinched the title with a third place finish in the final round in Tampere. Pre-season testing has proved instrumental in allowing the talented Finn the opportunity to hone his skills, and for 2016 joins the experienced former champion Tommy Rustad aboard one of the team's two-litre, 16v, 600bhp Peugeot 208 RX Supercars for a full assault on the FIA European Rallycross Championship.